Well, we finally finished the guest bath! Just as promised, here are some pics of before, after, and during.
I'm also putting in a collage of the "during" pics. Now granted, this is the FIRST time I've ever done anything like this ever; however, I'm pretty durned proud of myself! Hubby did help quite a bit; he did the plumbing, demolition, and mitre saw. We have a good system; I do the detail and he does the technical stuff. It took us a week to strip the bathroom down to the floor, scrape the sub-flooring, fix the mildew/mold issue (the previous owners had a leak at one time...nasty!), cut the tiles, do a dry run, set the tiles, grout, baseboards, caulking, new toilet, new vanity, new granite countertop/sink combo, new mirror, and I re-tailored the old shower curtain to be longer and make the room look bigger. WHEW!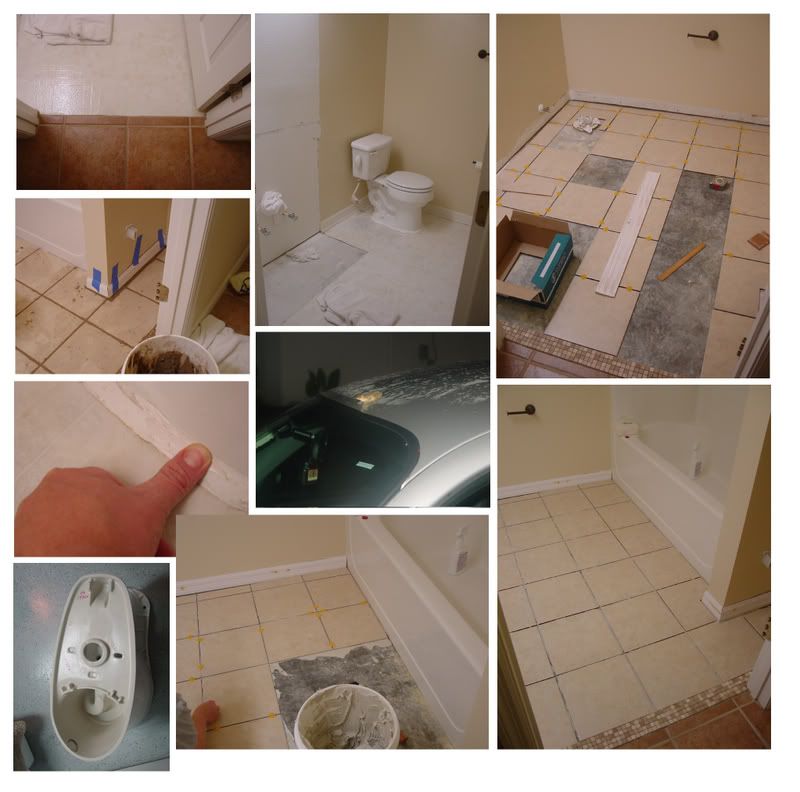 Although it wasn't a big area, it was a major PITA, mostly because we didn't know what to expect and what "we would do different". Fortunately, we get to do this all over again this week on the master bath; however, the tiled area is much smaller (toilet, shower, and vanity are in separate areas). We're ready!!