So you wouldn't wack off its feet and make chicken stock!
This past week, I was surfing through a few of my favorite foodie bloggers and stumbled upon
Elise's site at Simply Recipes
. Elise decided to make a big-ol'-batch of chicken stock using chicken feet. What?!! I must know more!
Apparently, back in the day, our grandmothers and maybe even some of our current family swear by chicken stock made with chicken feet. One of my friends over at the
Cooking Forum
mentioned that her grandma used "everything on the chicken except the cluck," and from what I've read, chicken feet make the richest, most flavorful thing you've ever had in the way of chicken stock. So, of course I HAD to give this experiment a try.
After explaining to hubby just WHY I had to find some chicken feet, we were on a mission. Where do you buy chicken feet, you might ask? Well, we are lucky to have a diverse ethnic population here in the city beautiful known as Orlando. Most self-respecting Asian or Latin grocery will carry chicken feet. Apparently, they've known all about the wonders of feet for some time. I also love going to Asian groceries, as I can find the neatest things there. I got a bargain on some black rice vinegar and dark sesame oil, which will be used for something tasty in the future; I'm sure.
According to Elise, 2 pounds of feet was called for in her recipe, so 2 pounds we bought. First, though, you must have some fun with your food:
Little Birdy's Dirty Feet
If in the proximity of a chicken foot, feel free to chase your spouse, children, pets, neighbors, etc. around the house while screaming "Yarrrr! Yarrr!" (clucking just doesn't have the same effect).
Hey, did you know if you pull the little tendon thingie at the place were the foot was whacked, you can make the chicken foot "wave"? Fun times!
Down To Business
Next, you rinse the little pink things off and place them in a pot of water for an intial boil. Boil for 5 minutes, skimming any foam/scum off the top. Drain water and rinse feet under cold water till cool enough to handle.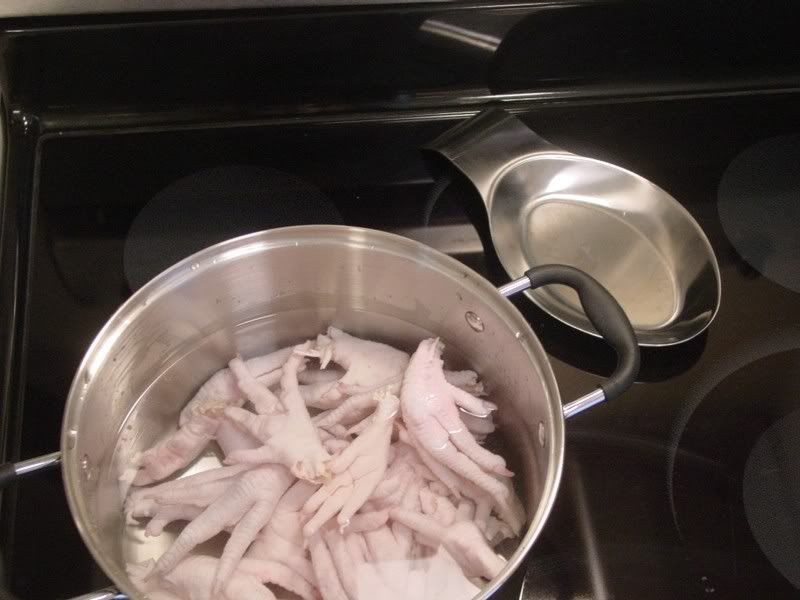 Una Manicura
After their initial boil, the claws need to be chopped off. This allows the collagen in the feet/bones to seep into your stock, making it wonderfully rich and flavorful.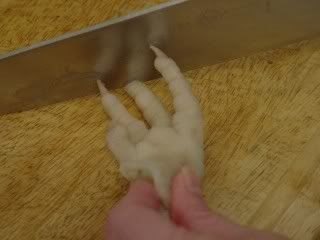 Hey, did you know chickens get callouses? These need to be sliced off too. I wonder if there are little chicken podiatrists out there?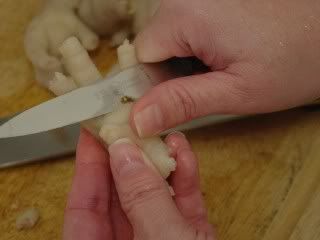 After that, it all goes back into a pot of clean, cold water. Add enough water to cover about 2-3 inches. Add 2 quartered onions, 2 cut-up carrots, 2 cut-up celery stalks, 2 bay leaves, a tablespoon of peppercorns, and a tablespoon of dried thyme. Bring to a boil, then leave at a gentle simmer. Place a lid on the pot (leave a small gap for evaporation) and simmer for 4 hours.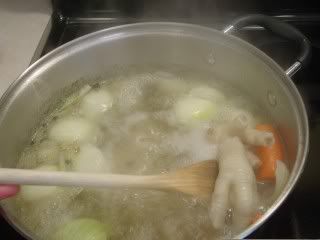 Liquid Gold!
After 4 hours of simmering, remove lid and simmer for another hour to concentrate the stock. Strain stock, and refridgerate. This made 2 quarts, but it is very concentrated and luxuriously rich. I took a taste of it when it was still warm and it was like chicken flavored liquid butter (but without the fat).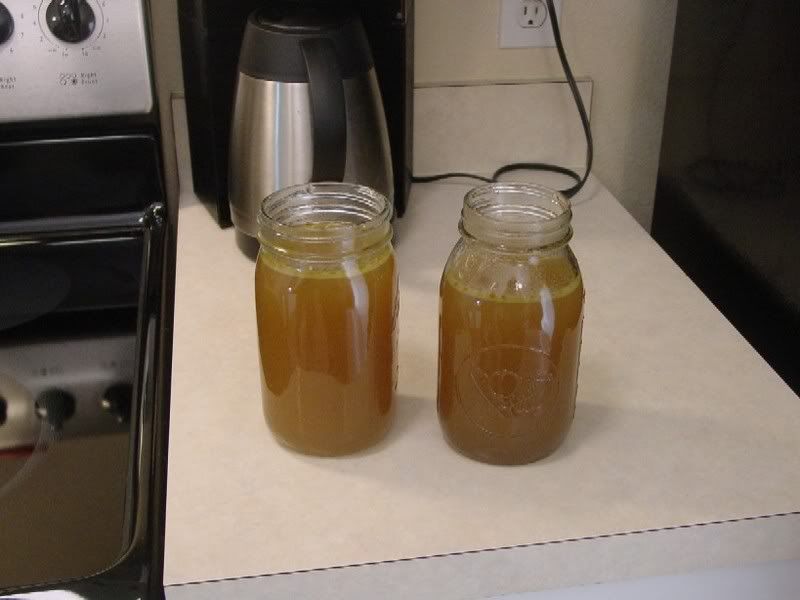 After chilling, I have "chicken jello". This will be made into an awesome Egg Drop Soup later this week.